Tentilex: The winning project from the Rainbows End Sex Tech Hackathon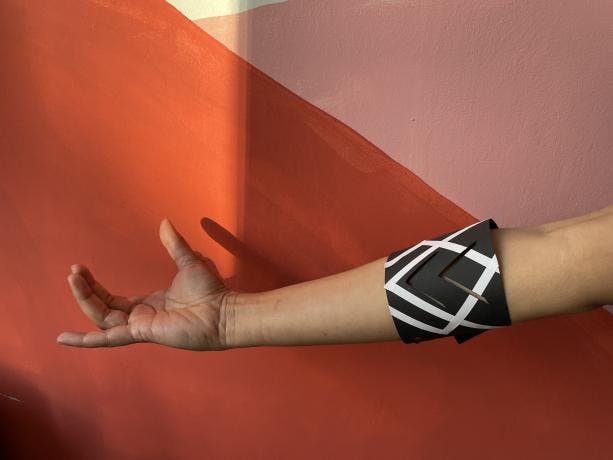 Over the weekend of May 1-2, 2021, I participated in the Rainbows End Sex Tech Hackathon—and my team won!
This post acts as a general archive, which includes an overview of the hackathon, our team, our project (Tentilex), descriptions of the research routes we ventured down, rejected ideas, and more.

About the hackathon
The Rainbows End Sex Tech Hackathon was organized by Touchy-Feely Tech in collaboration with Creative Coding Utrecht and Hervisions as part of the Rainbows End online festival. 
This weekend-long hackathon explored technology's impact on sexuality and human behavior. Participants conceptualized or built projects that responded to at least one of the proposed challenges: Fair Futures, Sexual Health = Health, and Dream Devices. Tentilex was in the Fair Futures category, which focused on creating sex tech that is accessible and representative of a wide spectrum of different bodies, identities, and beyond.
The entire hackathon was hosted online with correspondence happening on Discord and presentations taking place on BigBlueButton. 
Our team
I'll explain our team name—"E.T. Fingers"—later, but here's an overview of the wonderful women who made up our team. The descriptions were written by each of us individually.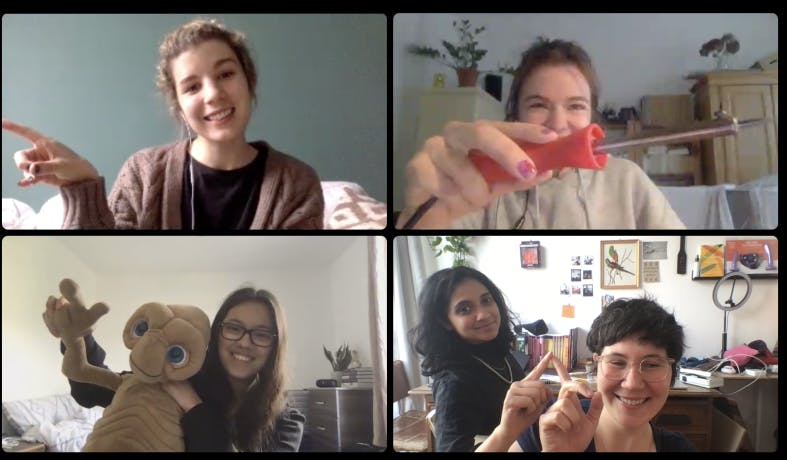 We all met on Discord through the hackathon, with the exception of Roni and Gayatri who have worked together before.
Something noteworthy about our team is that a majority of us are queer. This contributed to Tentilex's success because we all truly understood the problem we were attempting to solve and the experience of both giving/receiving fingers intimately.  
Focus on fingering 
From the very beginning, our team formed around the concept of creating a gender-neutral product that enhances fingering play.
The problem
When it comes to fingering, there isn't much of a lexicon or vocabulary around the act (and most of the common terms are completely cursed). Fingering is written off as something reserved for horny high schoolers or something you should 'just know' how to do. 
There's hardly any resources or educational materials for how to finger someone well (partially because most sex education in general is penis-vagina based). Finally, most of the current options for fingering sex toys are cheaply made and poorly designed. 
The reality
Fingering is difficult—especially when you consider that every body and movements someone finds pleasurable is different. There are multiple facets to it, including penetration and other forms of stimulus (rubbing the clitoris, for example). 
Fingering also happens in a large number of relationship compositions and isn't limited to vaginal play or pleasure. Bluntly speaking, focusing on fingering is more inclusive. 
Existing market products for fingering
The existing market for fingering-specific sex toys is pretty grim.
Many products lack technology and the materials feel very clinical. Some examples include textured masturbation gloves made from PVC and spiky Spoody Rings that cover the length of the finger. There are also finger cots (looks like tiny condoms) and even vaginal dilator sets that are worn on the hand.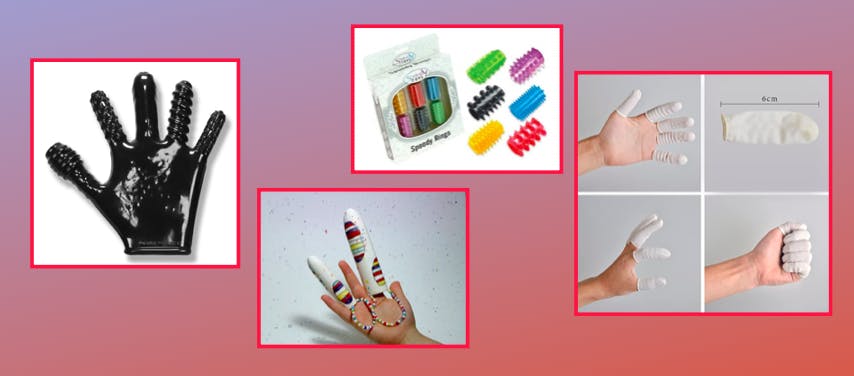 Products from left to right: Masturbation glove, LSGTouch vaginal dilator set, Spoody Rings, finger cots.
One product that helps solve a common fingering problem (not being able to reach the g-spot) is the Finger Extender from WetForHer. It's designed to be worn on top of the index and middle finger and adds nearly 12 centimeters of insertable length.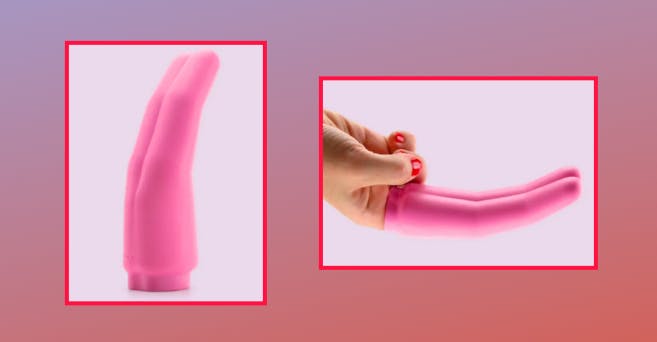 When looking at the sex tech space, most of the products are designed to be worn on top of your finger(s) or held in between two fingers. They are commonly made with medical-grade silicone and include a vibrating motor inside. 
Finger vibrator examples include Fin from Dame Products, DiGiT from Hot Octopuss, and Finger Bang-Her Vibe from Frisky. Frisky also makes a vibrating g-spot glove that is worn over your index and middle finger, wraps around the wrist, and essentially transforms your fingers into a giant vibrator.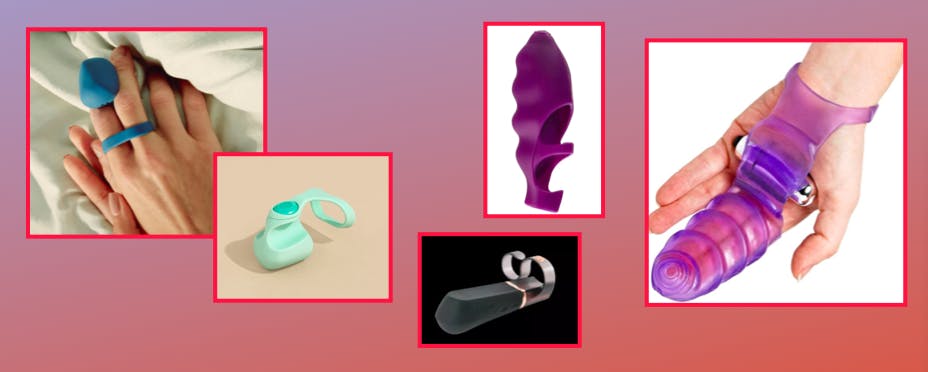 Products from left to right: Fin (blue and green colors), DiGiT, Finger Bang-Her Vibe, Frisky's vibrating g-spot glove.
While most products attempt to enhance the performance of a human finger, some took a different approach by just… replacing the human finger completely. One example is MysteryVibe's Poco, a bendable bullet vibrator that mimics the shape of a finger. Lora DiCarlo also offers two products, Osé and Onda, that features "a robotic finger-like stroker instead of vibration tech for the G-spot stimulation" (quote from SexTechGuide).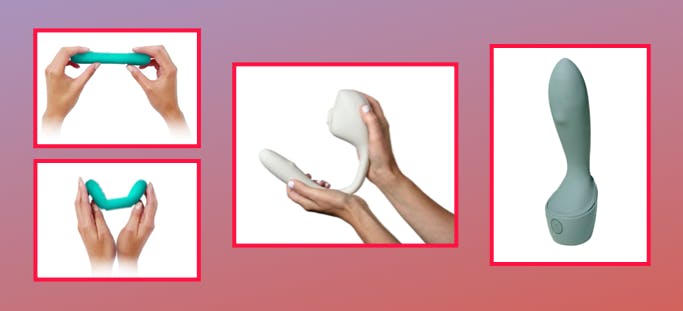 Products from left to right: Poco (straight and bent), Osé, Onda.
Our team's mission
We wanted to build a fun, wearable interface that allows someone to visualize their fingering experience and create more language around fingering. 
Additionally, we wanted to help others achieve higher body sovereignty, body literacy, and erotic pleasure through safe sexual exploration.
What we pitched: Tentilex 
Tentilex is a wearable armband that records your hand movement while fingering and generates a live 3D-model on a local server from those movements.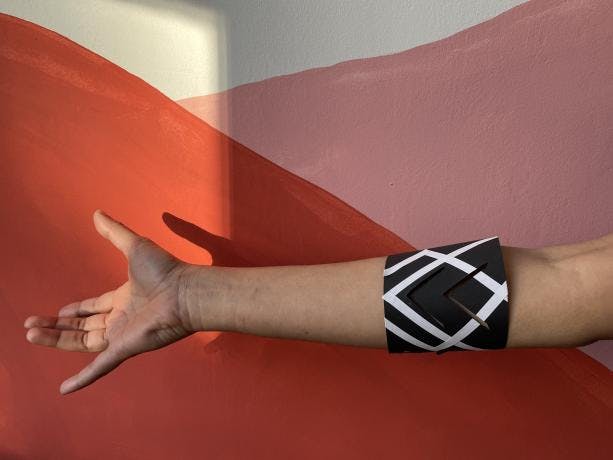 Input: Electromyography (EMG) sensors 
Output: 3D animation with hand avatars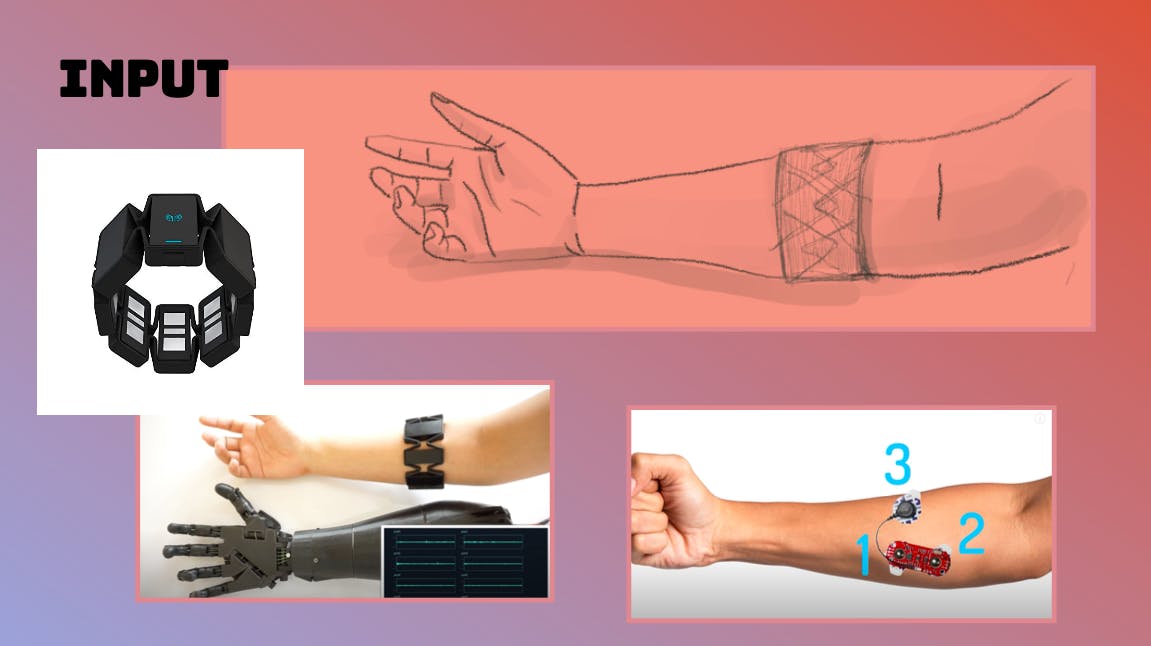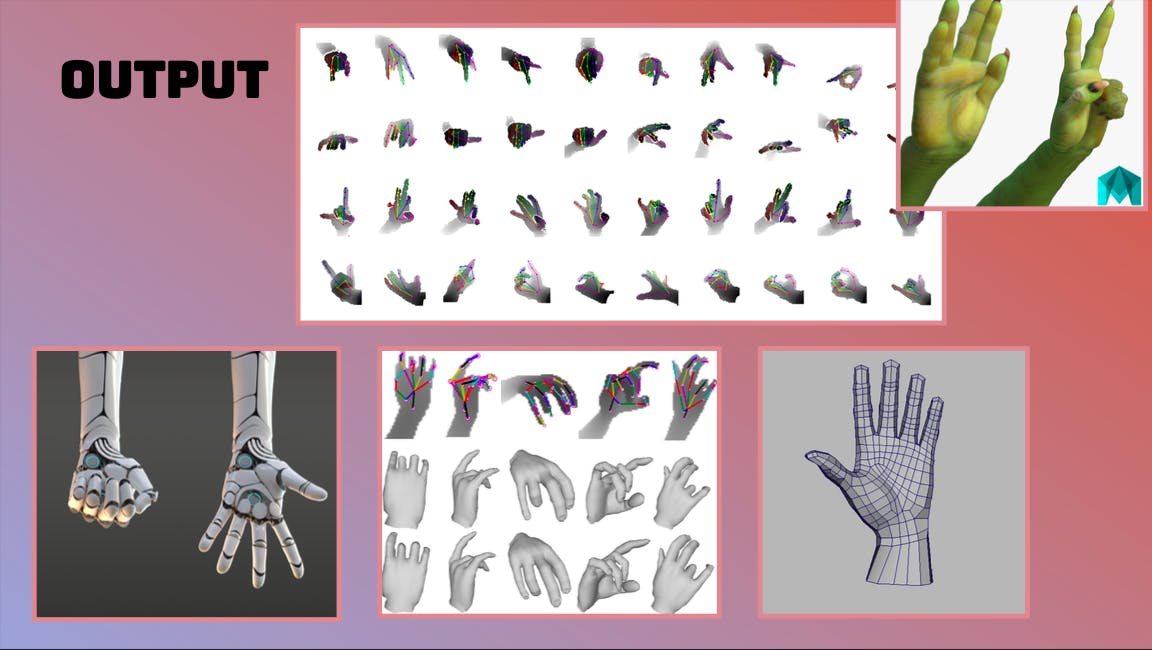 Benefits of Tentilex 
Allows you to visualize your hand motions and learn from them later. 
Cultivates a common visual lexicon of movements that can be referenced by yourself, partners, or others (for instance, a crowdsourced education platform).
Provides a novel sexual experience.
The Tentilex band is visually appealing, comfortable to wear, and easy to clean.
In the future, the band would be accompanied by a sharing/community platform that serves as a crowdsourced sex education about fingering.
Technology used
EMG sensors and embedded ARM Cortex-A53 processor 
Built-in rechargeable battery (charged the same way as an Apple Watch)
Connects via Bluetooth to the user's computer or smartphone
Behind the scenes: We use Arduino to connect the Tentilex band to our 3D modeling software
Band design
We wanted to focus on making the band feel as natural as possible. An important aspect of this was leaving the skin-to-skin contact and not blocking it with a glove or another material.
For the design, we used tattoos as a source of inspiration. These styles were sleek, could appeal to a wide range of ages and genders, and would have enough color to hide the sensors. 

Target audience
People with fingers 🖐🏼
Interested in internal stimulation
Any gender, any age
Designed for partner play
Any level of exploration (from beginner-friendly to advanced)
Future developments
As part of our pitch, we mentioned what we'd hope to do after perfecting the technology and experience. For us, this next step would be building a crowdsourced platform and collective educational experience around fingering. People could share positions, techniques, and more. 
Inspiration and supplementary research 
E.T.
The original inspiration for the project was E.T. and his magical fingers. Roni even used this gif when posting the initial concept and declared the team name "E.T. Fingers." 
We used E.T. as a continuous source of inspiration, from our color palette to our pitch deck.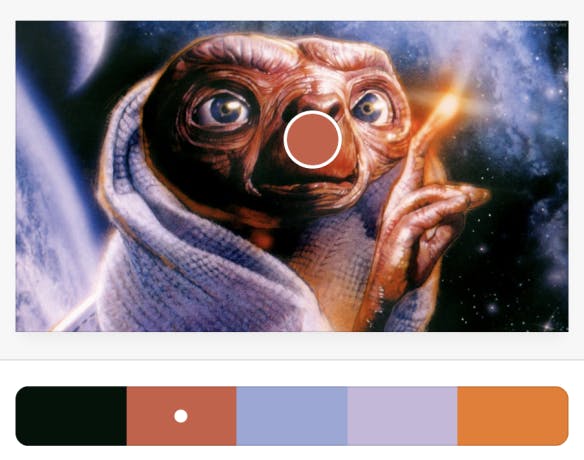 Movement sensors 
Once we decided that we wanted to prioritize skin-to-skin contact, we start researching what technology could support that. We thought about sensors, particularly related to prosthetics and robotics development.
The final band was inspired by the Myo Gesture Control Armband, an armband with EMG sensors and embedded ARM processor. It can connect to robotic arms, software, or anything else via Arduino. 
We also looked into ShArc Shape Form sensors, which are made from flexible strips that can be placed on, or embedded in, objects to monitor shape in real-time.  

Products from left to right: Myo Gesture Control Armband, ShArc Shape Form sensors.
Kama sutra 
A classic when it comes to thinking about sex positions, kama sutra served as a potential education inspiration for our project and how people can share positions. We particularly liked this page from the Bliss Club book: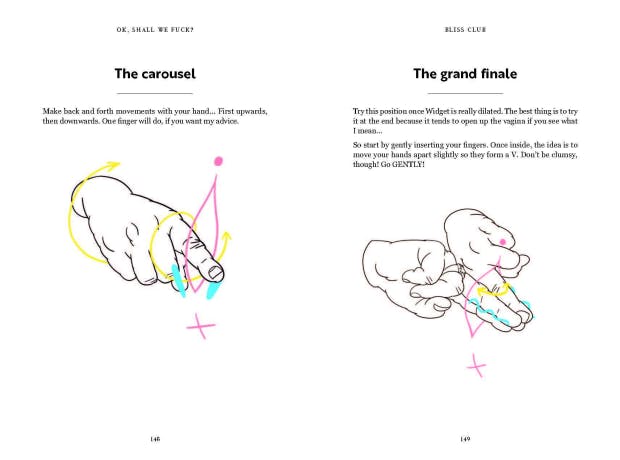 Crowdsourced platforms
When considering the future developments of Tentilex, we decided on a type of crowdsourced education platform. This was directly inspired by existing websites like the Orgasm Library of Real Sounds and Shapes of Sex. 
The Orgasm Library of Real Sounds enables people to anonymously record or upload audio of their orgasms and generates colorful visuals to accompany them.
Shapes of Sex is more abstract and artistic. It's a showcase of animated body pose skeletons detected via PoseNet from porn footage (with the option to play the original video or audio in the background).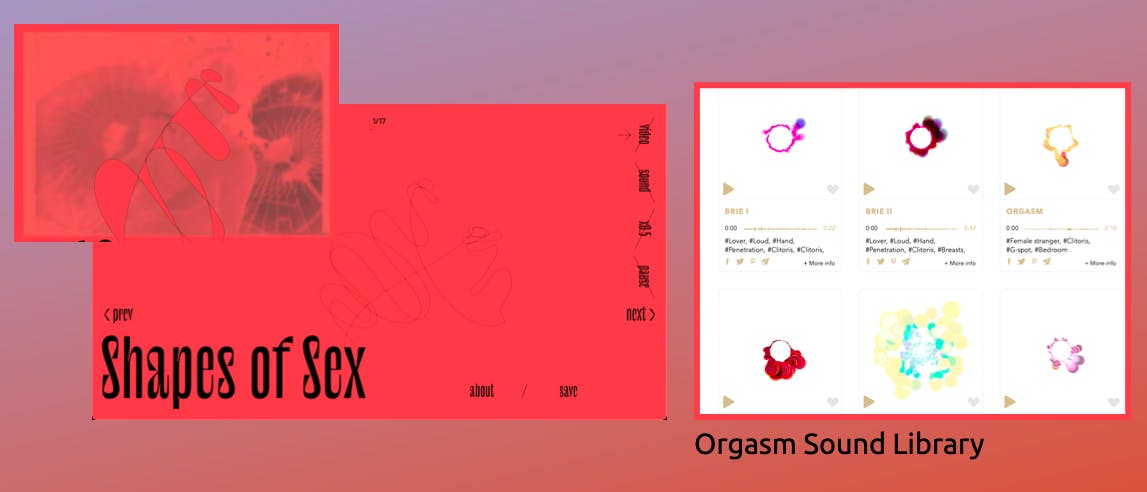 Bowling
During one of the first conversations we had as a team, we were discussing various fingering positions. Someone brought up how the thumb is often neglected, even though it has so much potential based on its placement when the index and middle fingers are penetrating. Another teammate immediately jumped in and said, "Ah yes, the bowling ball position!" 
That conversation led to an investigation of bowling ball hand positioning, bowling gloves (some only cover the thumb, while others cover only the index and pinky fingers), and even bowling tape used to wrap fingers. 

Toothbrushes for dogs and babies 
There are many products that at first glance seem like they would be a sex toy but are actually… far from that. Toothbrushes for babies and dogs are a great example. They are often made from silicon and slip over one finger (similar to many fingering-specific sex toys). Another related and equally strange find was the finger covers meant to protect your fingers from chip grease.
Because there are so many examples like this, we even made a quiz at the beginning of our pitch deck: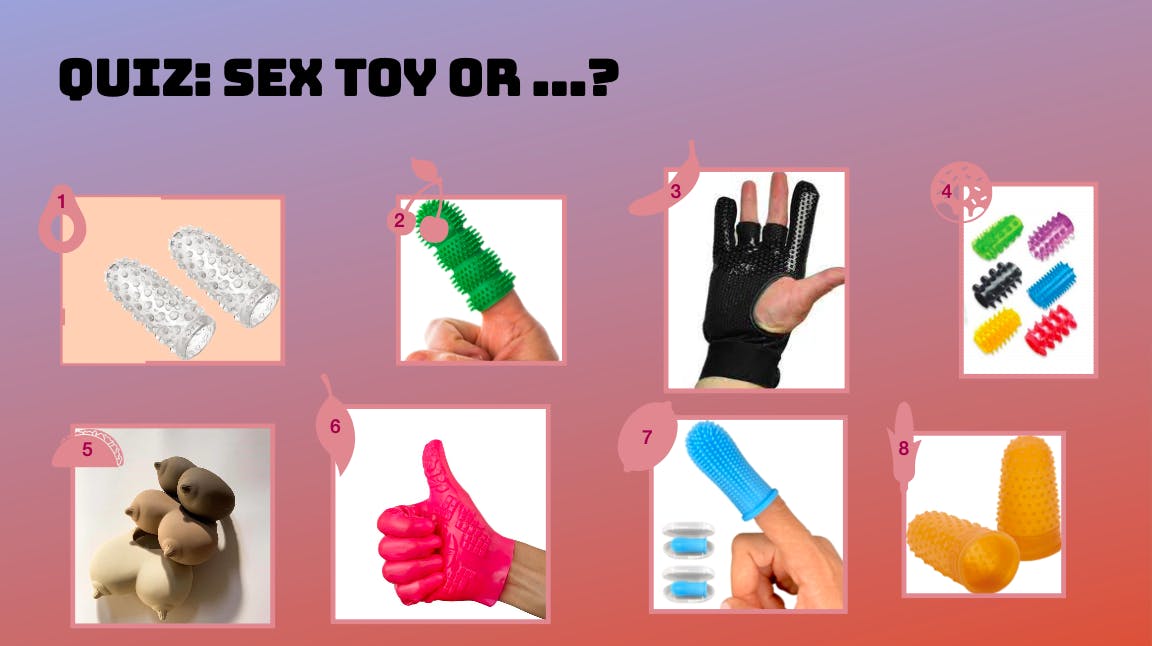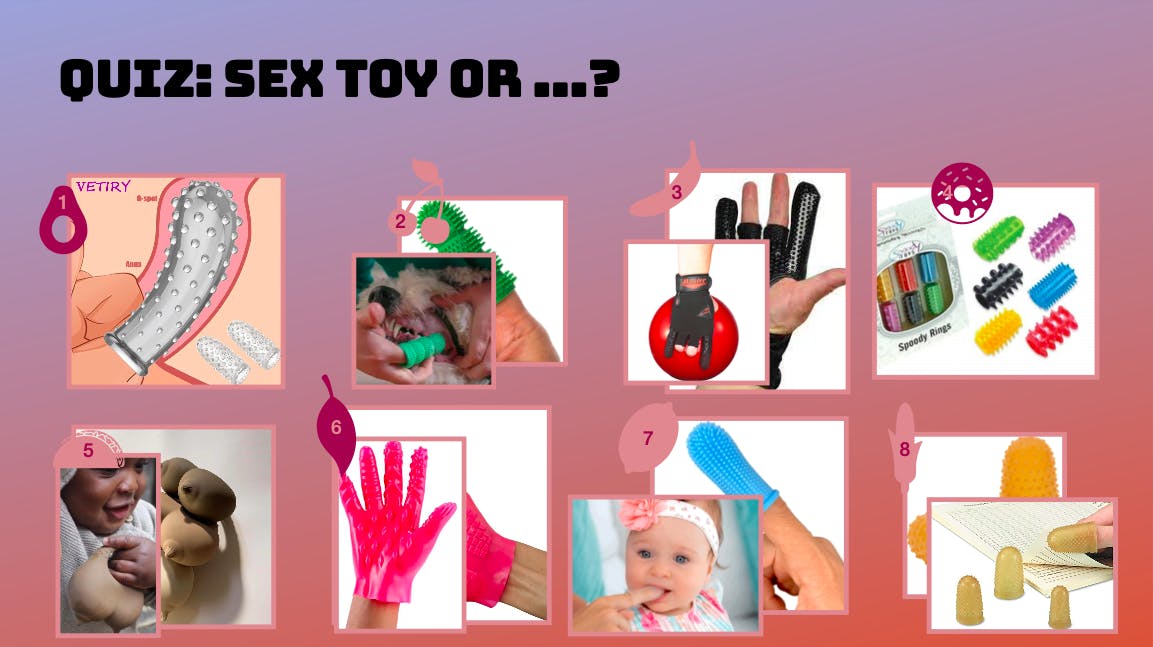 Gloves and haptic technology
When it comes to fingering, the first instinct is to think of a glove or something that attaches to the hand. We were set on this concept for almost an entire day, but unsure of what feedback the glove would be providing. 
From our perspective, this feedback could be visual (3D mapping), data (comes with security concerns), or something interactive for the wearer (haptic technology that could provide micro-vibrations to indicate that you're doing something well).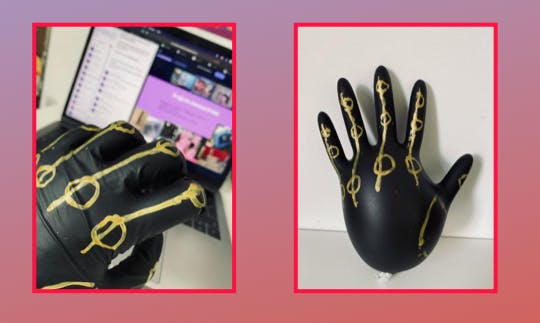 A prototype of the original sensor glove we had in mind (also experimenting with how pumping in air could influence pleasure).
Soft robotics
Before we ruled out toys that attach to the finger, we explored ways we could make the feeling of a finger toy more similar to human touch. Soft robotics seemed to be the answer. 
We researched potential materials like non-newtonian fluid (used by the winners of the previous Rainbows End Sex Tech Hackathon) or the soft silicon used by companies like iroha+. Our teammate Marie even built some prototypes using water-filled plastic tubes.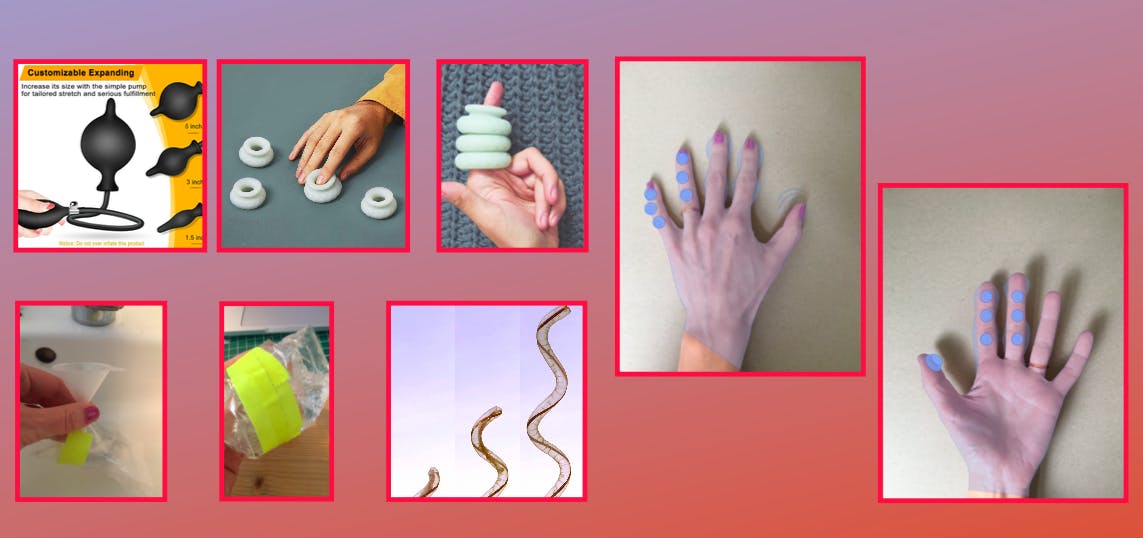 A mood board of soft robotics-related inspirations, including two prototypes built by our team (yellow container in the bottom-left corner and the hands on the righthand side).
Sign language and morse code
The idea of communicating via your fingers appealed to us. Memorizing hand positions and communication through movement are both concepts that fingering could benefit from. 
Along with sign language, we looked at how morse code is being integrated into sex tech (PussyTalk) and how tecnology, specifically hand sensors, is enabling the deaf-blind community (Lorm Hand + Lorm Glove). 

From left to right: The sensors under the Loam Glove, the alphabet in American Sign Language.
Data and data visualization 
We knew we wanted to collect data, but what kind of data was a question and our ideas evolved over time. We were inspired by The Lioness Vibrator 2.0, a vibrator that uses built-in sensors and a mobile app to visualize arousal and orgasms, and CLEVER°FRANKE's data visualizations. Another consideration was security and the potential of being hacked (more on that below).
Challenges faced
Here's an overview of the primary challenges that popped up over the weekend:
Not being too clinical 
How can you make a product informative without being too clinical? We wanted what we built to be sensual, playful, and aid exploration—but we also wanted it to be educational and accurate. 
This concern of being "too clinical" also came into play when discussing materials. Latex or plastics are cold and invoke pap smear-related memories. At the same time, we wanted our product to be sterile and safe. 
If you're collecting data, what will you do with it?
One of the mentors from Kinky Makers brought up this question during one of our calls.  They said that when you're building a product that collects data, half of the battle is knowing what to measure and the other half is how that measurement affects the person or modifies behavior.
Concerns about safety and data privacy 
Given that we're collecting input data from our product and outputting it into a software, the security of our technology and privacy around that data collection were a major concern. Particularly because of other examples of sex toys being hacked and compromised. 
Rejected Ideas
Throughout the course of the weekend, we came up with a lot of ideas that were ultimately rejected. Here are a few, sorted by category.
Rejected product developments
Anything with a glove (integrating an optical mouse into the glove or haptic feedback as you're fingering)
AR glasses inspired by surgical training
Crotchless underwear with ultrasound sensors
Fitbit-style accelerometer fingering rings
Dipping your hand in body-safe dye
3D mapping of the inside of the vagina or anus
Tracking the finger joint angles
Mood lighting as an output 
Rejected names
The Finger Guide to the Galaxy
Fingerlingo
Lexi 
Rejected hand model styles
Skin-colored hands 
Zombie or alien hands
Mickey Mouse hands
So, is Tentilex the future of fingering? 
We're not actively working on developing the hackathon project into a business or product—but maybe we should. Fingering is an area of sexual pleasure that is in desperate need of innovation and education. And given our first-place finish at the Rainbows End Sex Tech Hackathon, others believe it too. 
If you're interested in listening to me ideate more about what the future of fingering will hold, watch out for my upcoming article in Future of Sex. 
Like my work?
Let me send updates to your inbox (and one day, a newsletter).
Unsubscribe anytime. No spam 🤖