My Sex Toy Collection as of January 2022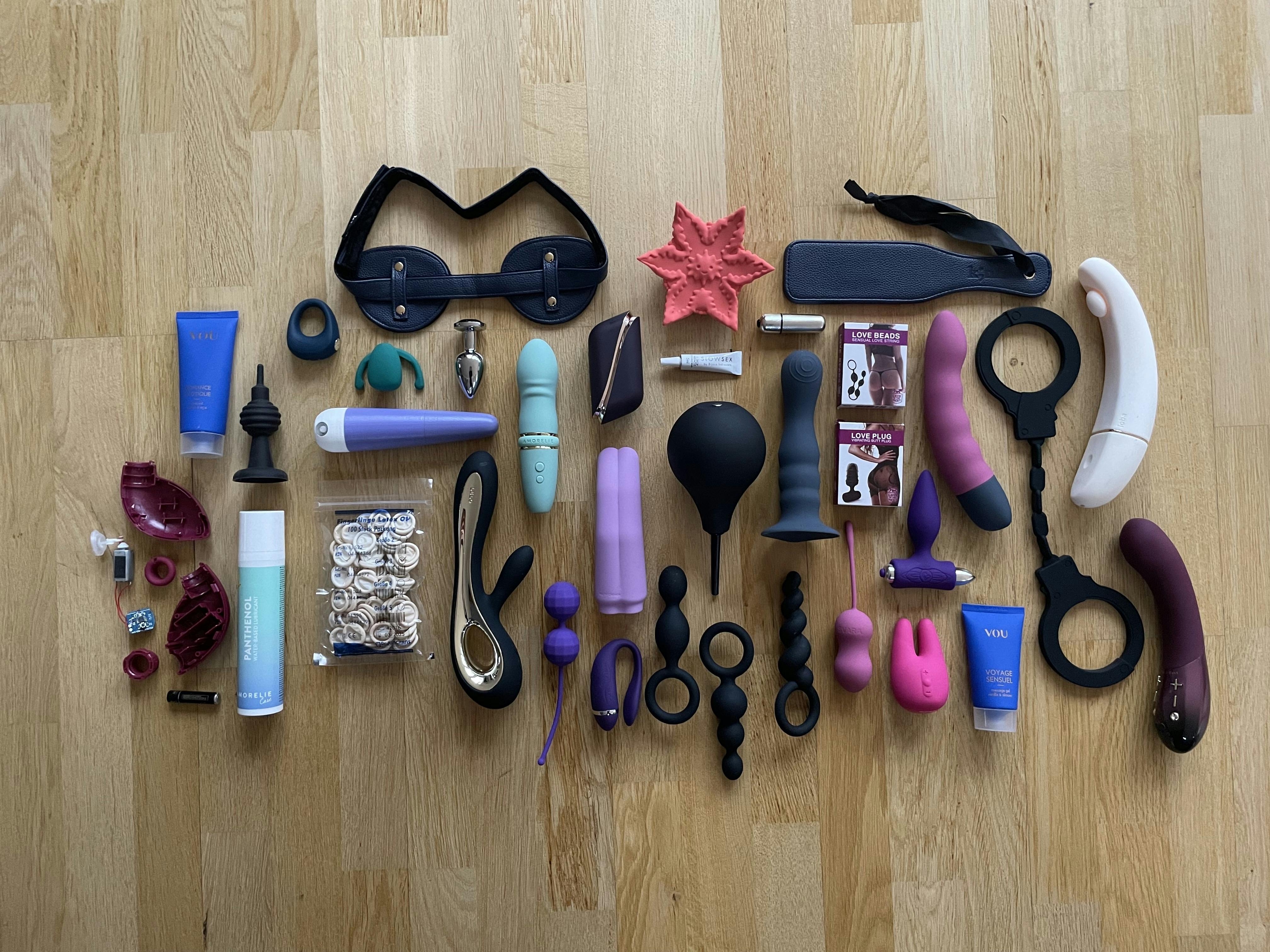 After years of thinking about it, I finally created a detailed inventory of my sex toy collection!
My Sex Toy Inventory List PDF chronicles the 48 total pieces in my collection. It's divided into five primary categories:
Dildo: Non-technical, penetrative toys.
Vibrator: Tech-enabled, vibrating toys varying in shape.
Accessories: Think BDSM-type play (harnesses, paddles, etc).
Wellness: Mostly lubricants and kegel balls.
Butt: Plugs, beads and anal douches.
The list also documents the product's name, brand, materials it's made from, color, how and when I acquired it, as well as any sub-categories (i.e. Bluetooth, hand-free, suction cup, etc).
Taking the time to inventory my sex toy collection made me notice a few trends, so I've decided to share them in this blog post. 
75% of my sex toys were acquired in 2021
This sounds extreme, but it makes sense when you consider my career progression and involvement with the sex tech industry the past year.
In 2021, I started writing regularly for publications like Future of Sex and Sex For Every Body—including sex toy reviews where I receive the product for free. For other articles, I'd often purchase products as a form of research. Some examples include buying sex toys from airport vending machines, tearing down "one-time use" vibrators, and trying CBD lubricant for another upcoming article.
In May, I was on the winning team for the Rainbows End Sex Tech Hackathon and received numerous sex toys as prizes. 
While I received a majority of my collection for free, there are sections that were very intentionally curated. Towards the end of 2020, I started experimenting with anal pleasure and therefore purchased a variety of toys and hygiene products to supplement that exploration.
Relationships have a huge influence on what's in my sex toy collection
At the beginning of 2021, I was coming out of a long-term relationship with a man. This breakup required me to first split existing sex toys with my ex and then decide from the remaining which I'd like to keep. If you're curious about how I made these decisions, let me know (I've been debating writing about this topic for a while).
Later that year, I started a new sapphic relationship. We're both cis women, so that eliminated the need for any products designed for penises. There are also a couple sex toys on that list that I inherited from my girlfriend or that were purchased as a function of our relationship. All of the dildos are from 2021, for instance.
Favorite places to buy sex toys
An erotic advent calendar was such a fun way to spend December. It had a good variety of sex toys, educational materials, accessories, and wellness products. That's why basically 1/3 of my collection is from that calendar.
However, I'd only recommend purchasing an advent calendar like this if you have a plan for the things that you'll never use. For example, my girlfriend and I knew that we would give any penis-oriented products to a friend (spoiler alert: he loved them).
I've been going to Other Nature for years, but I was there practically every weekend in 2021 because I was living in Kreuzberg. Six of my toys are from this queer, eco-centric sex shop and they also offer great workshops in both German and English.
One of my closest friends from university lives in Scotland and it's his favorite shop. I especially love how helpful and inclusive the shop's staff is every time we go. Only one of my current toys is from there, but I've had many others and I always make sure to swing by when I'm in town.
Favorite sex toys from 2021
All-time favorite sex toys
Traveler by Satisfyer 
My DIY vibe (come on, I built it with my own hands)
Eva by Dame (or at least back when I was having more heteronormative sex)
I'd love to write more reviews!
If there's a toy on my list that I haven't already reviewed and you think it'd make a good addition to your site, please reach out: 💌 hello[at]workwithcarolyn.com
Like my work?
Let me send updates to your inbox (and one day, a newsletter).
Unsubscribe anytime. No spam 🤖