Broadcaster McNanna breaks ground
Beloit Daily News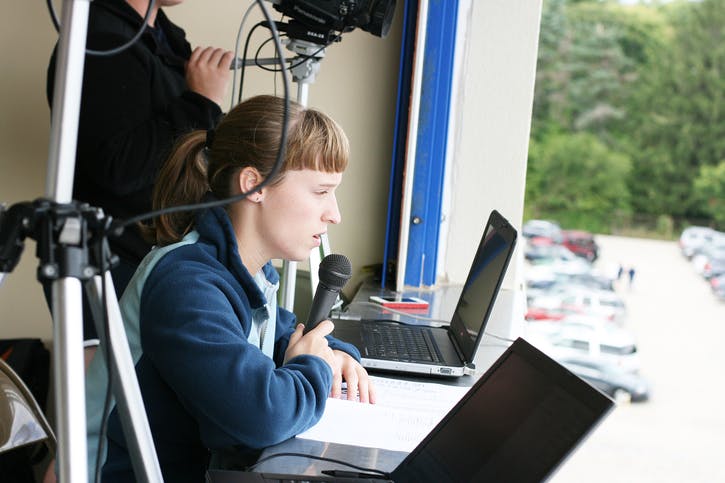 This article was originally published in the Sports section of the Beloit Daily News. They recently restructured their website, so this post acts as an archive.
For years now, Stretch Internet has provided video web streaming that allows family, friends, and Beloiters near and far to stay involved with the Buccaneer athletics action happening on the Beloit College campus.
But this year, something has changed.
This season, if you watch any of the home football games, you may notice an unfamiliar voice calling the plays. Senior Lauren McNanna is breaking ground by working as the only female football play-by-play announcer in the Midwest Conference today.
"A few minutes before the game starts, I announce the starting line-ups. Then once the game has begun, I'm giving play-by-play and doing my best to let everyone know the players involved in each play on offense and defense," McNanna says. "After each quarter, I get a stat summary so I read off some of the players' stats."
The Sept. 7 game against University of Chicago at Strong Stadium was her first experience on the field, and she is set to announce for the remainder of the 2013-2014 season.
McNanna, who is also a varsity basketball player, was initially set up with this position by Head Women's Basketball Coach Jennifer McCormick. McCormick spoke with Terry Owens, director of sports information, about McNanna announcing for him after the College's Student Athletic Advisory Committee banquet last spring.
"It had never crossed my mind to ask him about it," McNanna says. "I probably could have been doing it for the last couple of years, but I'm glad I am getting this experience now. I do get work-study for it… but I would still do it even if I wasn't getting paid because I really enjoy it."
McNanna has been attracted to sports broadcasting ever since she was young. "I have always been a huge sports fan. Every morning when I wake up, I always turn on ESPN, and ever since I was little I've thought it would be so cool to be an ESPN broadcaster," she says.
She also claims that the job has lived up to the hype thus far. "I like every part of my job. I think it's cool that I'm up there and I'm the one in charge of letting everyone who is watching online know what is happening during the game. I've gotten a lot of positive feedback from people who have watched games online, so that is always encouraging," McNanna says. "There isn't really anything I don't like (about the job)."
McNanna hopes to use her role to inspire other women looking to break into the sports broadcasting industry.
"When I found out I was the only girl announcer in the MWC, I wasn't too surprised because sports broadcasting is pretty male dominant," she says. "It makes me feel good though knowing that I'm doing something no one else in the conference is. I love doing it, and it would be nice to see some other girls out there start to do it as well."
Liked this article?
Let me send updates to your inbox (and one day, a newsletter).
Unsubscribe anytime. No spam 🤖